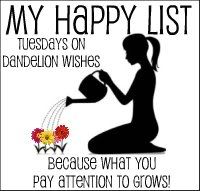 My favorite time of the week is hosted by the fabulous Mamarazzi at Our Dandelion Wishes.
1. Today, I am so thankful for this beautiful glorious day. The sun is shining, the birds are singing and Spring is absolutely bursting at the seams! All these things together make me one happy girl.
2. I am also happy that I will be able to start gardening soon. I am trying to hold off and be patient since Spring has sprung so early. I'm afraid that we will have a few cold snaps because we are having May weather and it's March!! So, I have planted a few herbs in pots, but if the weather turns bad I can put them in the garage for safe keeping. Gardening and hopes of more gardening soon makes me so happy!
3. I am happy that although I'm working today, I can see outside and still enjoy this beautiful day.
This picture is not outside where I work, but outside the back of my house a few afternoons ago, that I thought I'd share.
4. Seeing things that survived the winter makes me very happy.
Parsley and Chives...
Green Ivy...
Grass starting to turn green full of wild violets...
all, make me Happy!
I hope that you are having a happy day and that you are getting to experience some of these glorious sights!!
I hope you will link up to Mamarazzi's Happy List. I'd love to see what you are happy about today!
Love and hugs,
Ginger