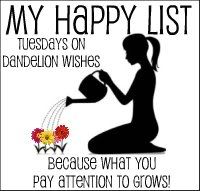 1. I am so happy that I can see visions of this...
Instead of this....
We were suppose to have a snow storm over the weekend. Heard all the media hype for DAYS!!! and got nothing. Although it is cold, we have sunshine and it makes me happy that we did not get snow.
2. Sunshine makes me Happy! and I'm happy today because I see...
Source:
3. I am very happy that today is Fat Tuesday and I have my Cajun Red Beans ready for dinner tonight! Being prepared for dinner on days that I work make me very happy.
Here's what I did:
Rinse 4 cups of Red Kidney Beans (applies to any kind of beans)
Pour beans in a large pot and cover with cold water about 2 inches above beans.
Throw in a ham bone or your preferred seasoning.
Cover
Bring to a boil and reduce heat to simmer.
Simmer beans for about 2 hours checking occasionally to make sure there is plenty of liquid.
Chop one small onion, 2 stalks celery and a red bell pepper and add to beans.
Simmer another 2 hours until the beans are tender and creamy.
Add kosher salt and pepper to taste
2 teaspoons Chili Powder (I only do this in my red beans)
Eat as is, but I prefer them over a little brown rice and a piece of pan cornbread.
1 cup yellow corn meal
1-1/4 cup all purpose flour
Pinch of kosher salt
2 teaspoons baking powder
2 tablespoons sugar (I use Truvia)
1 egg slightly beaten
1 cup milk
Heat your non-stick pan with approximately 3-4 tablespoons olive oil over medium heat. Pour mixture int he pan when the oil is hot.
Cook until brown and crusty and then flip over until the other side is brown and crispy.
I like my cornbread thin and crispy, but you can use a smaller skillet and put it in a 350 degree oven until brown and done in the center.
Enjoy!
4. Wishing you a Happy day and Happy Fat Tuesday, makes me happy too!
Source:
HUGS!!
Ginger