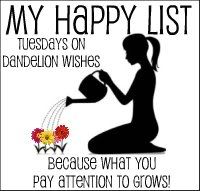 This is my first go at Mamarazzi's My Happy List Tuesdays at Dandelion Wishes! So here I go...
1). I am so happy to see the sunshine three days in a row. Sunshine makes me very happy.
2.) I am so happy that I woke up to some exciting news in my email this morning!
http://liventhingsup.blogspot.in/2012/01/winner-of-ramsign-giveaway-is.html
I am the winner of this great giveaway over at Liven Things up! I won a Ramsign of my very own! Winning great giveaways makes me very happy.
3.) I am so happy that I will be having lunch with a sweet friend this week who's birthday is today and I will get to act silly with her baby who just turned six months old.
Acting silly with a six month old baby makes me happy.
4.) Making it through the month of January without breaking any of my 2012 goals so far, makes me very happy. Eating better, walking more and no frivolous purchases made me extremely happy.
5.) Making myself try new things and having fun doing them makes me happy, happy, happy! You just need to go for it sometimes!!
So, everyone, come on over and join Mamarazzi at Dandilion Wishes and share your happy! and have a little fun.
Hugs, Ginger