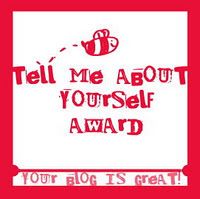 I received this award from Grace @
http://growing-old-with-grace.blogspot.com/2011/10/i-received-tell-me-about-yourself-award.html
. Thank you Grace! It was fun getting to know you a little better. I apologize for taking so long to post this... please forgive me. I am also posting this for Ricki from Art @ Home who also received this award. I hope you will visit her here:
http://ricki-treleaven.blogspot.com/2011/11/my-happy-list-32.html
You are suppose to forward this to 15 other bloggers, but all my closest blogging buddies have already been awarded and I know how every one's time is now with the approaching holiday. So if you feel so inclined to do this, please do so, I would love it if you did. It is always great getting to know all of you a little better.
Seven things about me: (I'm really pretty boring y'all!).
I am a "Merle" girl. (I have used Merle Norman cosmetics and skin care products since I was approximately 20 years old and now I am a Beauty Consultant at our local Merle Norman Studio here in Bardstown. I have worked there part-time for the past 5 years.
I drive a big black 4-wheel drive, four door Ford F-150 pick up truck and I love it. I don't know what I'd do without it.
I own a Kodiak 4-wheeler ATV and love riding on it and feeling the wind in my hair and on my face!! I don't go real fast and I stay pretty much on safe ground.
I use to own a cafe' in Bardstown called "The Spicy Lemon Cafe" and was featured in the "Southern Lady" magazine.
I worked in Corporate America for a total of 27 years! Hence, why I went crazy and opened a cafe'!
I am truly a Southern Girl! I was born in Knoxville, Tennessee in the foothills of the Great Smokey Mountains. I love the mountains and go back as often as possible. (Plus I love sweet tea or as we call it, "the house wine of the south")!
I have one sibling, a brother who is 26 months older and everyone has always believed we are twins. (He made me the tomboy I am today)!
I hope you all will give this a try. It's actually a little difficult, but fun. Thanks Grace and Ricki for challenging me.
Have a happy week!